Shipping Planes on Trains is a series of four softcover books that present a comprehensive look at the transportation of airplane components and major subassemblies on railroads.
If you have an interest for either of these transportation modes, you are going to enjoy how they interplay and how the author has documented their triumphs and failures addressing both commercial and military applications. This historical background is essential for an understanding of air/ground logistics in peace and war.
The history is told in four volumes: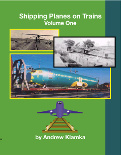 Volume 1 begins with the Wright Brothers and ends with the cessation of World War I (1903–1918). - SOLD OUT
begins with the years following Word War I and concludes at World War II (1918–1945).
begins with the years following Word War II (1946) when the aviation industry would again face an uncertain future following explosive growth, the introduction of the jet engine and the resulting jet age for commercial passenger flights and concludes with rail shipments by aircraft manufactures in the concluding years of the 1990s.
documents rail shipments of aircraft which were omitted in Volume 3. Boeing's 777 & 757 commercial airliners and McDonnell-Douglas's C-17 military transport are documented. One chapter contains a diverse collection of photographs, some never seen before, of aircraft components being transported by rail.